Hope everyone had a great weekend! Here is a roundup of music news that has been announced over the weekend...Robert Kinsler
THE WALLFLOWERS RETURN WITH EXIT WOUNDS JULY 9th VIA NEW WEST RECORDS
CONSEQUENCE SHARES "I'LL LET YOU DOWN (BUT WILL NOT GIVE YOU UP)"
Jakob Dylan Photo by Yasmin Than
The Wallflowers will release their first new album in nearly a decade, Exit Wounds, on July 9 via New West Records. The much-anticipated record finds the band's signature sound — lean, potent and eminently entrancing — intact. Uncut Magazine says "...Exit Wounds rocks with smouldering intensity," while MOJOsays in their 4 Star Review, "It's his best original work by some yards." KCRW has stated "Exit Wounds is a beacon for us all, a tribute to the rough year we've made it through."
Today, Consequence has shared the new song "I'll Let You Down (But Will Not Give You Up)" alongside an "Origins" feature with Jakob Dylan.
The Wallflowers will appear on CBS This Morning: Saturday on Saturday, July 10. They have also been announced as a part of Good Morning America's 2021 Summer Concert Series on Tuesday, July 13 and will appear on Good Morning America Weekend on Saturday, July 17 as well. The band previously appeared on Jimmy Kimmel Live and The Late Late Show with James Corden, performing Exit Wound's first single "Roots and Wings," which has cracked the Top 10 at AAA Radio this week.
The Wallflowers are also set to appear at the BeachLife Festival in Redondo Beach, CA alongside Jane's Addiction, Cage The Elephant, Portugal. The Man and more on Saturday, September 11th. Additional live appearances will be announced soon.
Most recently, Jakob Dylan Executive Produced and Starred in the acclaimed 2018 documentary film Echo in the Canyon. The film found him collaborating with a host of artists classic and contemporary, from Neil Young and Brian Wilson to Beck and Fiona Apple. Echo In the Canyon was also the last on-screen appearance by Tom Petty and was the ninth biggest theatrical documentary released that year. The Wallflowers' overwhelmingly successful single "One Headlight" was prominently featured in the Judd Apatow film The King of Staten Island last year and continues to be a massive hit, topping Billboard's "Greatest of All Time Adult Alternative Songs" chart.
The Wallflowers' Exit Wounds will be available across digital platforms, compact disc, and standard black vinyl. A limited Opaque Purple Vinyl edition will be available at Independent Retailers worldwide while a limited to 500 Purple Splatter vinyl edition will be available via New West Records. A limited to 500 Purple and Pink Splatter vinyl edition will be available via Nordic Retailers while a limited to 500 Purple and Silver Marbled vinyl edition will be available via the Magnolia Record Club. A Super Deluxe Vinyl edition limited to 750 copies will be autographed by Jakob Dylan. It will also feature a linen-wrapped jacket, purple foil-stamped & numbered and housed & protected in a clear outer sleeve. The Wallflowers' Exit Wounds is available for pre-order NOW via NEW WEST RECORDS.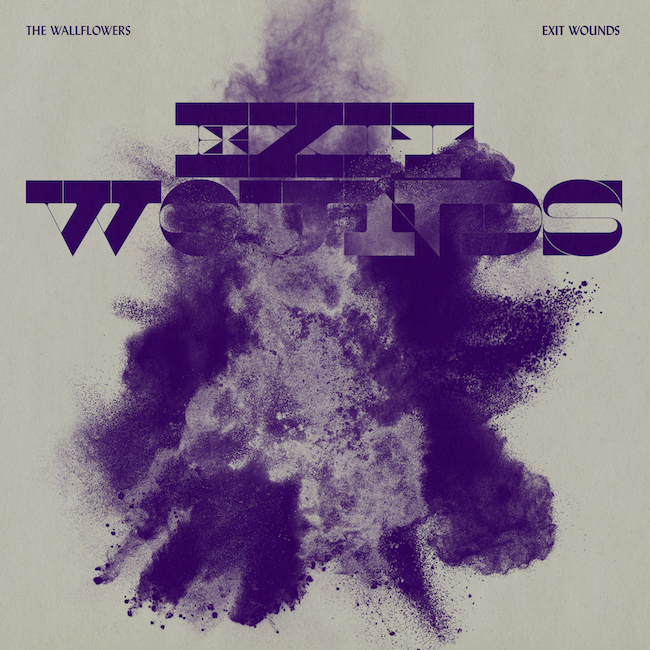 The Wallflowers Exit Wounds Track Listing:
1. Maybe Your Heart's Not In It No More
2. Roots And Wings
3. I Hear The Ocean (When I Wanna Hear Trains)
4. The Dive Bar In My Heart
5. Darlin' Hold On
6. Move The River
7. I'll Let You Down (But Will Not Give You Up)
8. Wrong End Of The Spear
9. Who's That Man Walking 'Round My Garden
10. The Daylight Between Us
SOUTHERN AVENUE SHARES OFFICIAL MUSIC VIDEO "PUSH NOW"
NEW ALBUM,
BE THE LOVE YOU WANT,
OUT AUGUST 27 VIA RENEW RECORDS/BMG
ALBUM PRODUCED BY MULTI-GRAMMY® WINNER STEVE BERLIN
(LOS LOBOS, DEER TICK, SUSAN TEDESCHI, JACKIE GREENE)
NEW TOUR DATES WITH 2X GRAMMY® AWARD WINNER JASON MRAZ ANNOUNCED
(Memphis, TN)
- The Memphis-based soul powerhouse
Southern Avenue
recently announced the release of their third full-length album
BE THE LOVE YOU WANT
along with the album's feature track "Push Now." Today, Southern Avenue share the official music video for the song; a light-hearted happy-go-lucky visual that showcases the band's personality and incorporates family members from the entire Southern Avenue team.
"We wanted the video to be fun, colorful, and alive. What better way to do that than to make it a raging party filled with super-cute kids," says Southern Avenue frontwoman, the song's co-writer and mom of two of the video's young stars,
Tierinii Jackson
. "The energy of the track was definitely matched by our adorable friends. It's LIT!"
WATCH
"PUSH NOW" OFFICIAL MUSIC VIDEO
BE THE LOVE YOU WANT
was produced by multi-GRAMMY® winner,
Steve Berlin
(Los Lobos, Deer Tick, Susan Tedeschi, Jackie Greene), and co-produced by
Ori Naftaly
, and arrives on
August 27, 2021 via Renew Records/BMG
.
Ahead of the release, the band will set out on an extensive tour, which includes two weeks supporting 2X GRAMMY® Award-winning pop superstar
Jason Mraz
whom the band collaborated with on the song "
Move Into The Light
."
Photo Credit: Michael Weintrob
6/27 @ Levitt Pavillion | Arlington, TX
7/2 @ Rural Hill Nature Preserve | Huntersville, NC w/ JJ Grey & Mofro
7/3 @ Iroquois Amphitheater | Louisville, KY w/ JJ Grey & Mofro
7/21 @ Rev. Dr. Martin Luther King Jr. Park | Rochester, MN
7/22 @ Music at the Meridian | Yankton, SD
7/23 @ Levitt at the Falls | Sioux Falls, SD
7/24 @ Holland Center | Omaha, NE
7/30 @ Stubb's Waller Creek Amphitheater | Austin, TX*
7/31 @ The Lawn at White Oak Music Hall | Houston, TX*
8/1 @ The Pavilion at Toyota Music Factory | Dallas, TX*
8/3 @ Starlight Theatre | Kansas City, MO*
8/4 @ Saint Louis Music Park | St. Louis, MO*
8/6 @ Andrew J. Brady ICON Music Center | Cincinnati, OH*
8/7 @ TCU Amphitheatre at White River State Park | Indianapolis, IN*
8/8 @ Meadow Brook Amphitheatre | Detroit, MI*
8/10 @ Rose Music Center | Huber Heights, OH*
8/11 @ Huntington Bank Pavilion at Northerly Island |Chicago, IL*
8/13 @ Jacobs Pavilion at Nautica | Cleveland, OH*
8/14 @ Stone Pony Summerstage | Asbury Park, NJ*
8/15 @ The Anthem | Washington, DC*
8/19 @ Brooklyn Bowl | Nashville, TN w/ Maggie Rose
8/20 & 21 @ Summer Camp Music Festival | Chillicothe, IL
8/27 @ Performance Pavilion at Sweetwater | Fort Wayne, IN w/ Samantha Fish
8/28 @ Levitt Pavilion | Dayton, OH
8/29 @ Railbird Music Festival | Lexington, KY
9/10 & 11 @ Big Blues Bender | Las Vegas, NV
9/18 @ Shipyard Festival | Cape Girardeau, MO
9/26 @ Roots N Blues Festival | Columbia, MO
10/1 @ Mempho Festival | Memphis, TN
10/8 @ Clay Center for the Arts | Charleston, WV
1/22 - 26 @ Panic en la Playa | Riviera Maya, Mexico
1/29 - 2/5 @ Legendary Rhythm & Blues Cruise | Eastern Caribbean
Memphis-based, GRAMMY®-nominated Southern Avenue inked their first record deal with Stax Records in 2016. The first Memphis band signed to Stax in over 40 years, their self-titled debut was an immediate phenomenon, reaching #1 on iTunes' "Top Blues Albums" chart before being honored with the 2018 Blues Music Award for "Best Emerging Artist Album." 2019's
KEEP ON
proved an even greater success, debuting among the top 5 on
Billboard
's "Top Blues Albums" chart amidst worldwide critical acclaim, ultimately earning Southern Avenue their first GRAMMY® Award nomination, for "Best Contemporary Blues Album".
In addition to the early success that the band has had with their recordings, they have also found a home on the road. The band has performed in 15 countries on three continents and averages over 150 shows in a typical year, making the group one of the most sought-after live performance experiences. Their high-energy shows have captivated audiences around the globe, making this eclectic group a must-see at venues and festivals alike.
Release Date: August 27, 2021
CROWS FEET RECORDS RECORDING ARTIST
RELEASES NEW GENRE-BENDING ROCK ALBUM
AUSTIN-BASED GUITARIST/SINGER
RELEASES HIGHLY-ANTICIPATED COLLECTION, PREMIERING ON
IDOBI
EMILY WOLFE TO TOUR THE US
Photo Credit:
Beth Garrabrant
June 25, 2021 (Austin, TX) -
Crows Feet Records singer/songwriter/guitarist Emily Wolfe today releases her highly anticipated new album,
Outlier
.
The album premiered exclusively on
IDOBI
as they praised the LP,
"...the result is a record that makes your heart race as it runs through different influences and vibes...for every high and low and in between you've been feeling lately, Outlier will be right there with you. Tracks like "Vermillion Park" and "My Lungs Give Out" are the kind of songs you play when you think of the ones who make you smile most….it's when she slows things down with songs like "Heavenly Hell" that you'll get swept up in the bittersweet emotions as Emily gently rocks her way into your heart.
The album is sticky & sweet; the bass rings in your ears and the songs make their way into your brain 'til you're craving more. If "LA NY" and "Never Gonna Learn" don't get you yelling "hot damn, this slaps" are you sure your volume is turned up high enough?
As early buzz and critical acclaim began to build with the release of two singles from the collection.
American Songwriter
said,
"...genre-fluidity is still apparent in her artistry. The concept of "No Man" began as a Blues song, but as anger reared its head, "No Man" evolved into a transcendent rock track, leaning into electronic influences to better tell her story."
Atwood Magazine
wrote: "
Outlier
is a dynamic and energetic frenzy finely balancing chaos with artistic control."
Parade Magazine
lauded Emily,
"
Not only a showcase for her formidable guitar chops, Outlier perfectly spotlights Wolfe's commanding vocal presence and newly expanded range. On the album's radiant lead single "Something Better," for instance, her voice drifts from tender to tough and back again with incredible grace, exponentially amplifying the song's mood of dreamy longing.
"
A 10-track album,
Outlier
was recorded in Los Angeles, produced by Michael Shuman, of Queens of the Stone Age and Mini Mansions, in his home studio. Emily and Michael, along with her longtime bandmates,
Evan Nicholson (bass) and Clellan Hyatt (drums),
took inspiration from a myriad of genres as they laid down the tracks.
"Before this album, my approach was to know exactly what I was going to do when I went into the studio,"
says Emily,
"But this time I wanted to leave room for a lot of creativity and weirdness. In a way it felt like jumping into the unknown with a blindfold on, but I just trusted that the risk would pay off."
"Something Better", the album's radiant lead single, hears Emily's voice drifting from tender to tough with incredible grace, amplifying the song's mood of dreamy longing. "I wrote this song at a point in my life where I felt stuck," she says. "But now with the pandemic, it feels more like a universal song about wanting change and not knowing when things are going to be okay."
In the second single and the opening track to
Outlier,
"No Man," Wolfe presents a powerful introduction to
Outlier
's aesthetic, bringing jagged synth and blistering guitar work to the track's message of fearless self-sufficiency (sample lyric: "Don't need no man to tell me how to work my machine").
"That song was written after a few situations where I had people telling me I needed a man to help me out with certain aspects of my music," says Wolfe. "It came from a place of frustration and rage, but really it's about how I don't need anyone but myself to do what I want to do."
With its delicate collision of so many eclectic sonic elements,
Outlier
marks a significant departure for Wolfe
while retaining the unbridled intensity she's shown in sharing stages with such acts as The Struts and The Pretenders among many others.
Outlier
perfectly spotlights Wolfe's commanding vocal presence and newly expanded range in her playing and songwriting.
One of the most groove-heavy and glorious moments on
Outlier
, "LA/NY" unfolds as an emphatic refusal to conform, matching its soulful urgency with an undeniable sweetness ("I can't be L.A./I can't be New York/But I can be yours"). And on "Vermillion Park," Wolfe shares a harmony-laced piece of storytelling threaded with vividly detailed teenage memories (loitering a local park after dark, listening to Joan Jett in the back of a car). "That one starts out as a song about a relationship I had in high school, but by the end it's about who I am now and my relationship with my wife—who's really the inspiration behind most of my songs," says Wolfe.
The IDOBI premiere was accompanied by a
first-person essay by Emily
in honor of Pride month. She wrote in part,
"Releasing a record during Pride month is something very special to me. Pride month is about bravery and celebrating who you truly are. It's about not hiding from anyone even if it means feeling like an Outlier. As part of the LGBTQ+ community, I want to recognize how far we've come. Seven years ago, I wouldn't have been able to get married to the love of my life, but I'm now happily married to her. Though there is so much work left to do, Pride month gives us a time to celebrate each other and help one another continue to normalize differences in sexual orientations and expression."
In celebration of Pride Month, Emily will also participate in the Epiphone: For Every Stage Pride Celebration live streamed on June 30 at 6 PM CT. Artists will celebrate inclusivity, and perform for Epiphone's combined 1.5 million followers.
In tandem with the release of
Outlier
, Emily also announced her US Summer/Fall tour including dates with the legendary Joan Jett and the Blackhearts. The tour will take her through the Southeast, Northeast and back to the Midwest, with more dates to be announced. (see dates below)
June 25, 2021 Paper Tiger San Antonio, TX
June 26, 2021 Lightstream Backyard Concert Series Cedar Park, TX
July 24, 2021 Vol. Summer: Festival of The Arts Pasadena, TX
October 15, 2021 Stickyz Little Rock, AR
October 16, 2021 Hernando's Hideaway Memphis, TN
October 17, 2021 3rd And Lindsley Nashville, TN
October 18, 2021 The Grey Eagle Asheville, NC
October 20, 2021 The Pour House Music Hall Raleigh, NC
October 22, 2021 Arts Avenue
Chattanooga, TN
October 24, 2021 The Southern Cafe & Music Hall Charlottesville, VA
October 26, 2021 Mercury Lounge New York, NY
October 27, 2021 The Recher Towson, MD
October 28, 2021 Dc9 Nightclub Washington, DC
October 29, 2021 Sound Waves at Hard Rock Hotel Atlantic City, NJ
(w/Joan Jett & The Blackhearts)
October 30, 2021 Count Basie Theater Red Bank, NJ
(w/Joan Jett & The Blackhearts)
October 31, 2021 Kung Fu Necktie Philadelphia, PA
November 2, 2021 Space Ballroom Hamden, CT
November 3, 2021 Middle East Nightclub Cambridge, MA
November 5, 2021 The Linda Albany, NY
November 7, 2021 Hard Rock Cafe Pittsburgh, PA
Photo Credit:
Beth Garrabrant
Finally, TJR and yours truly have posted a new episode of New Music Friday where we discuss some of our favorite new releases we have picked up in recent weeks. including titles featuring Billy F Gibbons, Weezer, Van Halen and more! You can view the episode HERE.