Hope everybody is having a great week. Here is a collection of a number of releases that have landed in my inbox this morning...
Kitchens Of Distinction return with a brand new
studio album, Folly, their first in 19 years
to be released on CD, Vinyl, and Digital Formats on November 5, 2013
In Summer 2011, Patrick Fitzgerald asked Julian Swales whether he would like to work on some new songs together. Dan Goodwin was invited to join in the fun and eventually ten songs loomed out of the mist. Ten new songs that sound not as a pastiche of a band 20 years on but, as Julian puts it, are "like a new version sucked through time and space."

Fitzgerald elaborates:
"

Jules thinks it sounds nothing like old Kitchens, but like a new version sucked through time and space. Dan said he thought it would fit neatly between Death of Cool and Cowboys. Me? Well it certainly sounds like nothing I've recorded these past stephenhero years, so I'm glad as I wanted a change. It's definitely a hark back to the sonic noise of KOD, but the lyrics are wiser, and the songs less fraught. But don't get me wrong, they are no less intense."
Folly is KOD 's fifth overall and first since 1994's Cowboys and Aliens. Fitzgerald, Swales and drummer Dan Goodwin formed KOD in South London in 1985 and released their first single, "The Last Gasp Death Shuffle," in 1987. Between 1989 and 1994, the trio released four studio albums before disbanding in 1996 following the release of final single "Feel My Genie."

Fitzgerald rules out touring, at least with all three band members, stating "No live shows featuring all 3 of us. Do you hear? That's a NO to those sitting in the back."
The Fader Premieres The Casket Girls' "Holding You Back" MP3
Limited Edition Tape Out On September 7 / Cassette Store Day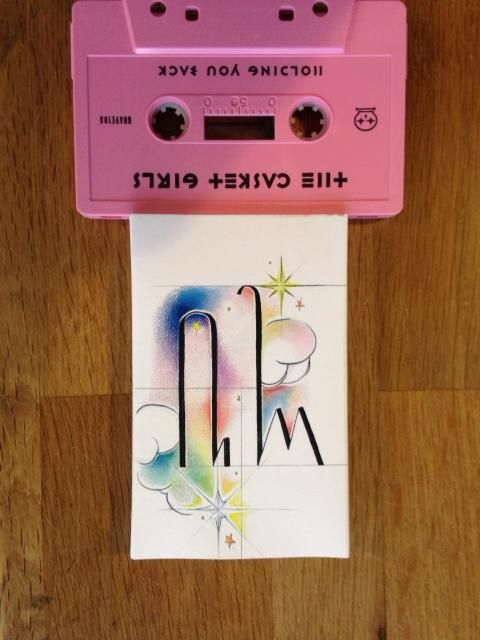 "The Casket Girls' brand of goth pop is definitely dark, but it's a
perfect mixture of doom and optimism that keeps you
hanging on every word." - Bust

"The Casket Girls sound like homespun electronic kindred spirits to School of Seven Bells,
A Sunny Day in Glasgow, Au Revoir Simone, and other dream-pop groups
centered around swirling sisterly vocals." - Spin
The Casket Girls, comprised of Ryan Graveface (Black Moth Super Rainbow, The Marshmallow Ghosts, Dreamend) and newcomers, Elsa and Phaedra Greene, are back with two new songs for the first ever Cassette Store Day. The limited edition tape will be released on September 7 onGraveface Records & Curiosities and features "Holding You Back" & "Suddenly." The Faderpremiered "Holding You Back" and said "it's got a subtle creepiness to it, seemingly tied to the ethereal, double-female vocals, like an extremely happy song that you might hear over the closing credits of a horror movie." Holding You Back" is also available to post and share via SoundCloud.

The cassingle follows up The Casket Girls debut album Sleepwalking which was released late last year on Graveface and a limited edition Record Store Day EP. Those releases were praised by publications such as Bust, NPR, Paste, PopMatters, Spin, The Washington Post and more. The band toured in support of those albums with The Faint, Trust and Black Moth Super Rainbowamong others.

The forthcoming cassingle will also act as a competition between the two new songs. Check back onThe Casket Girls Facebook page in the coming weeks as there will be a poll, and the song that wins will go on their next full length due in early 2014.
For more info, please visit:
MEGADETH - PHOTO CREDIT: Myriam Santos
24, 2013 IN MULTIPLE VIDEO AND AUDIO CONFIGURATIONS


Definitive Document of Megadeth's Acclaimed 2012
"Countdown to Extinction 20th Anniversary Tour"

"(Countdown to Extinction) may just be the
finest thrash-metal album ever made" – SPIN
Los Angeles, Ca. (August 28, 2013)
– Last November and December, Megadeth blazed hot on the band's "
Countdown to Extinction
20th Anniversary Tour," ripping through their entire double platinum 1992 album from start to finish before performing other classics from their recorded catalog. On September 24 (September 23 outside of North America), Tradecraft/UMe will release
Countdown to Extinction: Live
,
a definitive document of the acclaimed, sold-out tour. Recorded and filmed at Los Angeles' Fox Theatre last December,
Countdown to Extinction: Live
will be available in several video and audio configurations, including deluxe Blu-ray/CD, DVD, CD, Digital Album, Mastered for iTunes Album, and Longform Digital Video.
In addition to Megadeth's blistering performance of the entire
Countdown to Extinction
album, including the essential "Symphony Of Destruction," "Foreclosure Of A Dream," "Sweating Bullets," and "Skin O' My Teeth,"
Countdown to Extinction: Live
features all of the other Megadeth classics the band performed at the epic concert, including "Holy Wars" and "Hangar 18" from 1990's
Rust in Peace
, "Peace Sells" from the band's influential, platinum certified 1986 album,
Peace Sells... But Who's Buying?,
and "Trust" from 1997's platinum certified
Cryptic Writings
.
Megadeth's fifth studio album,
Countdown to Extinction
was recorded in Los Angeles in 1992. American tensions weren't limited to LA, as the Gulf War was still fresh in people's minds, the state of the environment was becoming headline news, and out of this turmoil, Megadeth was inspired to create
Countdown to Extinction
, considered by many to be the band's best and most accessible album. None of their previous records were as polemical as the sonic missiles launched by '
Countdown
.' Megadeth laced the songs with acid-tongued commentary about subjects ranging from the futility of war ("Architecture of Aggression") to the senseless brutality of caged hunting ("Countdown to Extinction"). "Foreclosure of a Dream" sampled George Bush's infamous "Read my lips" speech, making a statement about taxation endangering the American Dream.
Thanks to a perfect balance of hard-rock song structures, epic choruses, and fleet-fingered guitar work,
Countdown to Extinction
became an instant classic, benefiting from copious MTV and radio play. SPIN magazine raved that '
Countdown
' "may just be the finest thrash-metal album ever made." The album shot to No. 2 on the Billboard chart (it may have hit No. 1, if not for Billy Ray Cyrus' long chart-topping reign with
Some Gave All
), and it was certified double platinum in the U.S. within two years.
Megadeth was in top form, with Dave Mustaine, the band's then 31-year-old singer and guitarist leading the album's assault with lyrics like "You know your worth when your enemies praise your architecture of aggression," not to mention his venomous rhythm guitar attack with his longtime bandmate completed the picture, as bassist David Ellefson jammed dizzying arrays of low-end thunder. Megadeth sounded hungry, and the band was rewarded when the album earned a GRAMMY Award nomination (Best Metal Performance) and when its title cut garnered a Genesis Award from the Humane Society for raising awareness for animal rights issues.
In November 2012, Capitol released an expanded and remastered 20th Anniversary Edition of
Countdown to Extinction
, personally overseen by Mustaine. The 2 CD lift-top box and digital release pairs the remastered original album with an exclusive, previously unreleased 1992 concert, recorded live at San Francisco's Cow Palace.
In a career nearing 30 years, Megadeth has sold more than 38 million albums worldwide, earning five consecutive platinum albums and numerous accolades along the way, including 11 GRAMMY® nominations. The band's latest studio album,
Super Collider
, reunites Mustaine once again with guitarist Chris Broderick, bassist David Ellefson, and drummer Shawn Drover. Released in June,
Super Collider
debuted at No. 6 on the Billboard 200, Megadeth's highest chart debut since 1994's
Youthanasia
.
Megadeth: Countdown to Extinction: Live
Intro
Trust
Hangar 18
Public Enemy
Skin O' My Teeth
Symphony of Destruction
Architecture of Aggression
Foreclosure of a Dream
Sweating Bullets
This Was My Life
Countdown To Extinction
High Speed Dirt
Psychotron
Captive Honour
Ashes In Your Mouth
She Wolf
Peace Sells
Holy Wars...The Punishment Due
Outro
MEGADETH ON TOUR:
09/03 Raleigh, NC / Time Warner Cable Music Pavilion at Walnut Creek
09/05 Nashville, TN / Bridgestone Arena *
09/07 Kansas City, MO / Sprint Center *


09/08 Maryland Heights, MO / Verizon Wireless Amphitheater

*


09/10 Austin, TX / Tower Amphitheater

*


09/12 Las Vegas, NV / Mandalay Bay Events Center

*


09/13 San Bernardino, CA / San Manuel Amphitheater

* "Battle of San Bernardino"
09/14 Sacramento, CA / Discovery Park "Monster Energy Aftershock Festival"
10/04 Santiago, Chile / Estadio Monumental **
10/06 Buenos Aires, Argentina / Estadio Unico de la Plata **


10/09 Proto Alegre, Brazil / Fiergs

**


10/11 Sao Paulo, Brazil / Pama (Campo de marte)

**


10/13 Rio De Janeiro, Brazil / Apoteose

**
10/15 Belo Horizonte, Brazil / Esplanada Do Mineirao **
10/19 Bogota, Colombia / Parque Simon Bolivar **
10/22 San Jose, Costa Rica / National Stadium **
10/26 Mexico City, Mexico / Foro Sol **
10/30 Phoenix, AZ / Veteran's Memorial Coliseum "Arizona State Fair"
* Appearing with Iron Maiden
** Appearing with Black Sabbath

www.megadeth.com

www.twitter.com/megadeth